Immigrant and Refugee Mental Health
Demographic Profile of The U.S. Immigrant and Refugee Population
Immigrants and Refugees in the United States make up a unique subset of the country's population. According to 2016 data, The U.S. immigrant population stood at nearly 44 million million, or 13.5 percent, of the total U.S. population of 323.1 million. Of this population, immigrants in the United States and their U.S.-born children now number approximately 86.4 million people, or 27 percent of the overall U.S. population (Zong, & Batalova, 2018). Out of this large number of immigrants to the United States, 46 percent of the foreign-born population in 2016 reported their race as white, 45 percent of immigrants reported having Hispanic or Latino origins, 27 percent as Asian, 9 percent as black, and 15 percent as some other race, and more than 2 percent reported having two or more races (Zong, & Batalova, 2018). Furthermore, in 2016, 18 million children ages 18 and younger lived with at least one immigrant parent, which accounts for 26 percent of the 70 million children under age 18 in the United States (Zong, & Batalova, 2018). Thus, it is estimated that, by the year 2020, one in three children below the age of 18 will be the child of an immigrant (Working with Immigrant-Origin Clients, 2013). Thus, with the increases in immigrant and refugee populations to the U.S. over the years, the country continues to diversify. A breakdown of the growth in immigrant populations within the U.S. is outlined in the table below.
Numerical Size and Share of the Foreign-Born Population in the United States, 1970-2014




Source: Migration Policy Institute (MPI) tabulation of data from the U.S. Census Bureau's 2010 and 2014 American Community Surveys (ACS), and 1970-2000 decennial Census.



Factors fueling immigration for many include searching for work, reuniting with family members, and seeking humanitarian refuge. More than 60 million people worldwide have been displaced from their homes fleeing war, violence, risk of persecution, and/or environmental disasters, coming to the U.S. as refugees. (Winerman, 2016; Working with Immigrant-Origin Clients, 2013). The U.S. Immigration and Nationality Act defines a refugee as "a person who is outside his/her country of nationality or habitual residence; has a well-founded fear of persecution because of his/her race, religion, nationality, membership in a particular social group or political opinion; and is unable or unwilling to avail himself/herself of the protection of that country, or to return there, for fear of persecution." (Working with Refugee Children and Families, 2009).
In 2015, 69,933 individuals arrived in the United States as refugees, which is 20 percent higher than the 2012 total (Zong & Batalova, 2015). Fifty-seven percent of these refugees in 2015 originated from Burma (also known as Myanmar), Iraq, and Somalia. In addition to these top three countries, the Democratic Republic of Congo (DRC), Bhutan, Iran, Syria, Eritrea, Sudan, and Cuba make up the top ten countries of origin for refugee resettlement in 2015 (Zong & Batalova, 2015). The influx in refugees from various regions around the world that have entered the U.S. recently is demonstrated in the tables below.
U.S. Refugee Arrivals by Region of Nationality, FY 2003-15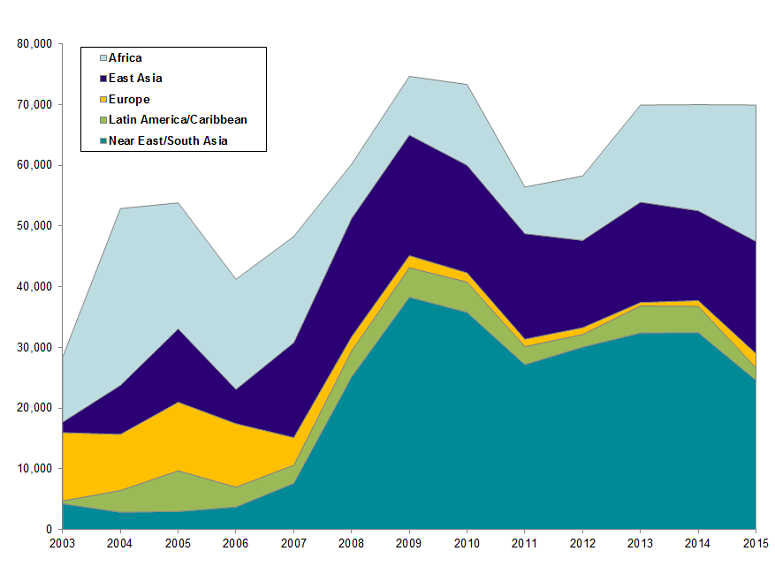 Note: Data from the Department of State (DOS) Worldwide Refugee Admissions Processing System (WRAPS) on refugee arrivals differ slightly from the Department of Homeland Security's Yearbook of Immigration Statistics due to a different data counting approach.
Source: MPI analysis of WRAPS data from the DOS Bureau of Population, Refugees, and Migration, available online.
Top Ten Origin Countries of Refugee Arrivals, FY 2013-15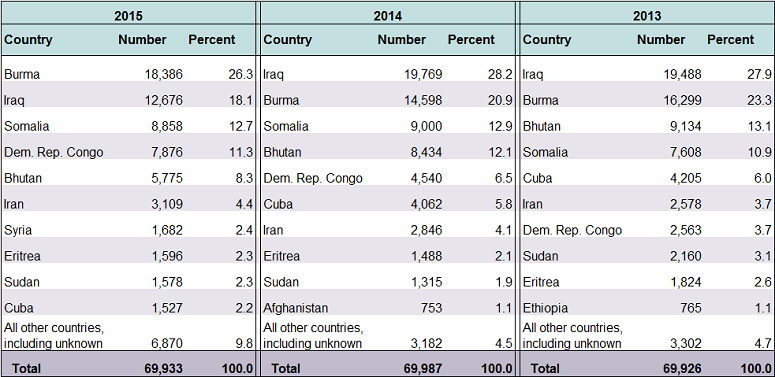 Source: MPI analysis of WRAPS data.



More than 40 percent of these refugees are children, many of whom have experienced profound loss and survived devastating events that can impact their development and long-term functioning (Working with Refugee Children and Families, 2009). For refugees of all ages, the journeys from one's country of origin is often characterized by long periods of time lacking access to basic needs and are filled with instability and violence. This is a large contributing factor to numerous mental health challenges that are experienced by immigrants and refugees.
Common Mental Health Challenges Experienced by Immigrants and Refugees
Refugees and immigrants to the U.S. experience unique stresses, prejudice, and poverty. These individuals and families can be considered at-risk subpopulations for health, emotional, and behavioral problems, and, in the case of children, learning and academic difficulties as well (APA resolution on Immigrant Children, Youth, and Families, 2016).
Some of the mental-health related issues faced regularly by immigrants and refugees include:
Stress associated with the immigration and resettlement process
Acculturation to language, economics, health care, education, religion
Encounters with both individual and institutional bias, discrimination, and racism
Multiple traumatic experiences
Stresses involved in immigration and resettlement experiences can cause or exacerbate mental health difficulties, including anxiety, depression, posttraumatic stress disorder (PTSD), somatic complaints, sleep problems, behavioral problems in children, substance abuse, suicidal ideation, and severe mental illness (APA resolution on Immigrant Children, Youth, and Families, 2016; Working with Immigrant-Origin Clients, 2013; Working with Refugee Children and Families, 2009). These difficult experiences paired with acculturation related issues can exacerbate mental health issues, causing them to become more acute and complex.
Acculturation related issues are often the root of what brings immigrant and refugee individuals and families to treatment. Acculturation is a multidimensional process that may occur in stages and can be psychological and behavioral. It refers to the process of adaptation, or lack thereof, which occurs when two cultures come into contact with one another. This adaptation process is one of the central tasks for immigrants and refugees. Immigrant and refugee families must learn to function in new cultures and make major adjustments. Often this process comes with the added burden of finding adequate resources for basic needs. Adjusting to a new society and managing challenging financial situations can be a particularly difficult experience for highly educated or former professionals from one country of origin who may face difficulties finding employment if their educational background or work experience is not recognized in by the U.S. This can result in a loss of status, psychological stress, and economic hardship that adds to other relocation difficulties. This difficulty with acculturation often exacerbates mental health issues as previously described.
Important markers of acculturation include language(s) spoken, ethnic identity, and the degree to which individuals participate in cultural activities. According to the U.S. Department of Education (2010), 20% of children speak a second language at home. Parents and children may acculturate at different rates, which is common among resettled refugee and immigrant families. Children often adapt to new language and cultural norms more quickly than their parents, which can lead to intergenerational misunderstandings, tensions between old and new cultures, and challenges to identity development, family conflict and loss of communication, role reversal, and facing loneliness and isolation (Working with Refugee Children and Families, 2009; Working with Immigrant-Origin Clients, 2013). Families working to cope with these stressors coupled with immigration trauma can lead to symptoms of depression, suicidal ideation, posttraumatic stress disorder (PTSD), and various other mental health concerns. What is more, the language barrier impacts refugee and immigrant individuals and families' abilities to receive proper health care.
In addition to acculturation-related difficulties and mental health challenges, traumatic experiences play a large role in immigrant and refugee overall well-being. Traumatic experiences that can occur at various stages in the immigration and resettlement process place immigrants at risk for mental health problems. This can affect the ways in which these individuals and families adjust to their new cultural context.
Trauma-based presenting problems include:
Migratory trauma, including pre-migration, migration, post-migration, and deportation
Interpersonal difficulties and violence
Depression, anxiety, PTSD
Compromised identification with country of origin, and adopted country
Feelings of persecution and distrust of authorities and institutions
Many immigrant and refugee individuals and families will have experienced and survived devastating and profoundly traumatic events. Not only are they faced with pre- and post-immigration trauma, but the pairing of these adverse experiences with subsequent acculturation issues and other stressors makes for a uniquely complex trauma experience for many immigrants and refugees. They are in great need of supportive services to promote health and wellbeing after resettlement in the United States, which can address a range of needs, including basic daily living, education, and physical and mental health.
Barriers to Mental Health Services for Immigrants and Refugees
Despite the great need for supportive mental health services, there are often numerous barriers to mental health services for immigrants and refugees. Some of these barriers include:
Differences in symptom expression and attributions as well as conflicting views about the causes of, and ways of coping with, mental health problems
Stigma associated with mental health problems
Lack of access to appropriate and culturally sensitive mental health services in native languages
Lack of access to interpreters (language barriers impact abilities to receive proper health care)
Shortage of racial/ethnic minority mental health workers and/or persons trained to work with racial/ethnic minority persons and culturally diverse elders
Lack of knowledge of available and existing mental health services and resources (e.g. transportation, insurance, and child care) for accessing services
Lack of access to services and culturally competent service providers in rural areas
Challenged sense of safety and belonging, and difficulty trusting that systems of care will help them when they are facing mental health challenges
Fears related to unauthorized status or to frequent moves in search of work.
Resilience and Strength of Immigrants and Refugees
Despite extreme adversity, great risk for mental health challenges, and barriers to support faced by refugees and immigrants, these individuals and families demonstrate extraordinary resilience and strength. "Within the framework of war and trauma, resilience is defined as personality traits that help protect against the psychological disorders resulting from exposure to terrifying incidents, such as mass violence or deportation under life-threatening circumstances; it encompasses bouncing back and positive adaptation in the face of safety-challenging experiences" (Arnetz et al.,, 2013). Many immigrants and refugees display remarkable resilience, survival strategies, coping mechanisms, and abilities to adapt within what are often entirely new and unfamiliar environments.
Arnetz et al., (2013) indicated in their research that refugees are at a substantially increased risk for pre-migration exposure to violence rendering them more vulnerable to war and trauma related mental health disorders, including severe psychological distress, posttraumatic stress disorder (PTSD) and other acute symptoms. Additionally, refugees, as compared to immigrants from a similar culture, reported more psychological distress and PTSD symptoms. Regardless of migrant status, however, pre-migration exposure to violence is a significant predictor of both psychological distress and PTSD symptoms. The resilience demonstrated by these individuals- both refugees and immigrants- was a significant protective factor against of psychological distress.
Despite facing many risks such as poverty, discrimination, taxing occupations, fewer years of schooling, and social isolation, immigrants who have recently arrived to the U.S. appear to do better than expected (as compared to those who remain in the country of origin and second-generation immigrants) on a wide range of psychological and behavioral outcomes. Additionally, research has shown that immigrants today are highly motivated to learn English and do so more quickly than did previous generations. Furthermore, immigrant and refugee children seem to behaviorally adapt to the U.S. culture quickly. (Working with Immigrant-Origin Clients, 2013) Optimism, greater family cohesion, and availability of community supports all contribute to the strength and resilience demonstrated by immigrant and refugee populations.
Resource Organizations » Immigrant/Refugee Mental Health
In Massachusetts
Outside Massachusetts
Organizations with hotlines
Organizations without hotlines