Impact of Divorce on Families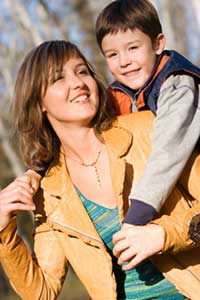 Decades of research on the effects of divorce on children has yielded mixed findings. There is some bad news and some good news. There are also some useful strategies for parenting one's children through a divorce so as to encourage a positive adjustment.
The good news is that two years after the divorce 80% of children appear to have no major psychological problems, and remain close to their families. In short, they resemble the children of never divorced families. The bad news is the other 20% who demonstrate serious and lasting negative consequences, including reduced school performance, poor peer relationships, lower self-esteem, and higher indices of depression, anxiety, and overall adjustment. And even the 80% who eventually come out of the situation more intact must endure the often intense emotional struggle to get to that better place.
Fortunately we are able to identify the risk factors for the children of divorce and the protective factors as well. So if the risks can be reduced or avoided and if the parents are able to activate things that help, the kids have a much better chance of doing well. Those risk factors include lessened parental support, lessened parental control, loss of contact with either parent, a reduction in the child's standard of living, and by far the most important…continued conflict between the parents. The first three items on this list occur because parenting during and after divorce often declines in quality as the parents are preoccupied with trying to find their own adjustments. Loss of contact with a parent (usually the father) is most often due to constant battling between the ex-spouses about the children or to father's dissatisfaction with a court mandated reduction of his role in his kids' lives.
So what helps? Positive and competent parenting, close relationships with siblings and grandparents, access to therapeutic intervention, joint physical custody, and diminished conflict between the parents go a long way toward smoothing the road to recovery. But too often parental conflict drives away other family members, causes withdrawal of a parent from the children, and leads to fights about money and support which result in the children having to adapt to a poorer quality of life .
So what can you do to protect your children if a divorce is imminent or has occurred? Simply put, protect their lifestyle, relationships with friends and family, maintain their activities and proximity to friends as much as you can, and above all, avoid conflict with your ex-spouse. It would not be unreasonable to sum up the findings of childhood adjustment to parental divorce in one conclusion: if the parents can maintain a civil and mutually supportive relationship the kids will do better. If the parents can engage in active co-parenting, that's even better. But this advice is easier given than embraced. We know that divorce inflicts deep wounds. So what steps can you take?
Avoid litigation. Choose models of legal divorce that pay attention to the human side, processes such as mediation or collaborative law.
Make sure that you have enough support yourself. Being single after many years takes some getting used to. Being a single parent is very complicated. Have the company and the ears of caring adults.
Pay attention to whether your parenting seems to change. It is easy for rules and discipline to slip, for familiar family structure to disappear. Be vigilant.
Remember that if you fight over financial resources you are fighting to reduce what your children have, at least part of the time.
Seek help from a knowledgeable professional. A therapist can be an extremely valuable helper during this stressful period of life. These days there are also divorce consultants, often called divorce coaches, whose job it is to help you stay focused on resolving your divorce in the healthiest ways possible. This person will help you manage your mood states and emotions during the most difficult moments and will give you tools to handle the necessary events such as fourway meetings with the spouse and both attorneys, court appearances, or stressful meetings with your lawyer. While coaching is not insurance reimbursable, it is a highly directed consultation that can save you a great deal in legal fees and emotional costs. Some parents are able to sit together with a coach and put together their own detailed parenting plan which they can then present to their lawyers and to the judge. It certainly beats having a judge mandate the terms of parenting because the parents could not do it themselves.
Parent Self Care: Parents need to remember to take care of themselves. Find a way to reduce stress by finding supportive friends and asking for help when it is needed. Try to keep some old family traditions, while building new memories to share. Showing children how to take good care of mind and body during difficult times can help them become more resilient in their own lives.
Expect resistance and difficulties as kids adjust to a new partner or the new partner's kids: New relationships, blended families, and remarriages are among the most difficult aspects of the divorce process. A new, blended family can add more stress for a while, and can cause another period of adjustment. Keeping lines of communication open, allowing one-on-one time for parents and kids, and watching for signs of stress can help prevent problems developing.
Taking the High Road: Keep adult conflict and arguments away from the children.  This is one of the hardest things to do. But it's important never to say bad things about your ex in front of the kids, or within earshot. Research shows that the single biggest factor in long-term adjustment for children of divorce is the level of parental conflict they are exposed to. It puts children in a difficult position in which they may feel they should take sides or listen to negative things about their parent, which only further complicates their ability to adjust. It's equally important to acknowledge real events. If, for example, one spouse has simply abandoned the family by moving out, it is helpful to acknowledge what has happened. It isn't a parent's responsibility to explain the ex-spouse's behavior — but if the kids want to ask questions, it's important to answer as neutrally and as factually as possible.
from KidsHealth.org
There is no getting around the fact that divorce is one of life's biggest challenges. It can result in lifelong damage but does not need to do so if one or both parents are able to take the steps necessary to protect their children. Acting as caring parents is one way for the divorcing mommy or daddy to heal themselves.
Dr. Portnoy is the Director of The Center for the Study of Psychology and Divorce at William James College, as well as a member of Needham Psychotherapy Associates. He is widely published in the area of divorce and consults nationally to lawyers and judges on the emotional aspects of divorce, and strategies for managing them. He is a therapist, divorce coach and consultant.
Resource Organizations » Divorce
In Massachusetts
Organizations with hotlines
Organizations without hotlines
Outside Massachusetts