Impact of Divorce on Families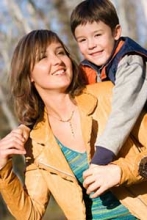 Decades of research on the effects of divorce on children has yielded mixed findings. There is some bad news and some good news. There are also some useful strategies for parenting one's children through a divorce so as to encourage a positive adjustment.
The good news is that two years after the divorce 80% of children appear to have no major psychological problems, and remain close to their families. In short, they resemble the children of never divorced families. The bad news is the other 20% who demonstrate serious and lasting negative consequences, including reduced school performance, poor peer relationships, lower self-esteem, and higher indices of depression, anxiety, and overall adjustment. And even the 80% who eventually come out of the situation more intact must endure the often intense emotional struggle to get to that better place.
Fortunately we are able to identify the risk factors for the children of divorce and the protective factors as well. So if the risks can be reduced or avoided and if the parents are able to activate things that help, the kids have a much better chance of doing well. Those risk factors include lessened parental support, lessened parental control, loss of contact with either parent, a reduction in the child's standard of living, and by far the most important…continued conflict between the parents. The first three items on this list occur because parenting during and after divorce often declines in quality as the parents are preoccupied with trying to find their own adjustments. Loss of contact with a parent (usually the father) is most often due to constant battling between the ex-spouses about the children or to father's dissatisfaction with a court mandated reduction of his role in his kids' lives.
» Customize Divorce resource listings for your community
Resource Organizations » Divorce
In Massachusetts
Organizations with hotlines
Organizations without hotlines
Outside Massachusetts