Impact of Divorce on Families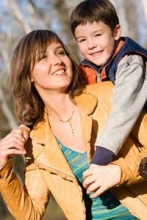 Decades of research on the effects of divorce on children has yielded mixed findings. There is some bad news and some good news. There are also some useful strategies for parenting one's children through a divorce so as to encourage a positive adjustment.
The good news is that two years after the divorce 80% of children appear to have no major psychological problems, and remain close to their families. In short, they resemble the children of never divorced families. The bad news is the other 20% who demonstrate serious and lasting negative consequences, including reduced school performance, poor peer relationships, lower self-esteem, and higher indices of depression, anxiety, and overall adjustment. And even the 80% who eventually come out of the situation more intact must endure the often intense emotional struggle to get to that better place.
Fortunately we are able to identify the risk factors for the children of divorce and the protective factors as well. So if the risks can be reduced or avoided and if the parents are able to activate things that help, the kids have a much better chance of doing well. Those risk factors include lessened parental support, lessened parental control, loss of contact with either parent, a reduction in the child's standard of living, and by far the most important…continued conflict between the parents. The first three items on this list occur because parenting during and after divorce often declines in quality as the parents are preoccupied with trying to find their own adjustments. Loss of contact with a parent (usually the father) is most often due to constant battling between the ex-spouses about the children or to father's dissatisfaction with a court mandated reduction of his role in his kids' lives.
» Customize Divorce resource listings for your community
Resource Organizations » Divorce » Melrose
In Massachusetts
Organizations with hotlines
CPF- The Fatherhood Coalition
617-723-DADS

617-723-DADS (message phone--someone will return your call)

Email: support@fatherhoodcoalition.org

CPF - The Fatherhood Coalition is an all volunteer, non-profit organization of men and women advocating for the institution of fatherhood, encompassing the full range of human behaviors and endeavors that flow from the father-child relationship. They work to promote shared parenting and to end the discrimination and persecution faced by divorced and unwed fathers, in society at large and specifically in Massachusetts.

CPF is active in all the arenas that impact the father-child relationship. They hold public events, conferences, protests, and rallies, and work the news media to raise public awareness about the importance of fatherhood and the epidemic of throwaway dads. Members are active within the courts fighting for justice and due process. They assist in legislative efforts promoting shared parenting, and work to correct the gross injustices that have worked their way into the state's law books. They produce literature and disseminate it to the public, the news media, and to elected officials. Fathers who need help in the courts are directed to pro se workshops where they learn how to best represent themselves.
Organizations without hotlines
Divorce Center
Toll free: 888-434-8787

Phone: (508) 446-4134

Email: info@thedivorcecenter.org

Since 1983, the non-profit Divorce Center has been easing the trauma of divorce. Comprised of volunteer attorneys, mediators, psychotherapists, career counselors, and financial experts, they believe that families experiencing divorce need to be well informed and supported throughout the process. They are a multi-disciplinary not-for-profit organization working to empower people before, during and after divorce or separation by providing education and resources. They bring both expertise and compassion to those who need them – individuals and families, divorce professionals, religious groups, parent organizations, non-profit groups and others. Their mission is to primarily make divorce more civilized and less traumatic for everyone involved, especially the children.
Divorce Step
Email: michele@divorcestep.com

Divorce Step provides affordable, specialized services, consultation and training to mental health professionals, teachers and clergy in an effort to promote education and sensitivity to the needs of divorcing adults and their children. These programs include a court approved Parent Education program, "Families Divided" (Parent education classes are mandated for all divorcing parents with children 18 and under), as well as support groups conducted for children, teens and adults affected by divorce or living in stepfamilies. http://www.divorcestep.com/about/index.html
National Parents Organization
Email: parents@nationalparentsorganization.org

National Parents Organization, a 501 (c) (3), improves the lives of children and strengthens society by protecting every child's right to the love and care of both parents after separation or divorce. They seek better lives for children through family court reform that establishes equal rights and responsibilities for fathers and mothers.
Outside Massachusetts
DivorceNet
When you're going through a divorce—or thinking about it—you need solid legal information that will help you make the best decisions possible. Find the answers to your questions here, whether you need to know about the divorce process, child custody and support, alimony, or how your marital property will be divided.
Select your state and receive a free evaluation by a local attorney.
Helpguide.org
Helpguide was launched in 1999, inspired by the belief that unbiased, reliable information regarding mental health leads to a sense of hope and direction. Since then, Helpguide has grown from a small local project to one of the world's largest, most highly regarded mental health websites with over 65 million visits in 2013.
For children, divorce can be stressful, sad, and confusing. At any age, kids may feel uncertain or angry at the prospect of mom and dad splitting up. As a parent, you can make the process and its effects less painful for your children. Helping your kids cope with divorce means providing stability in your home and attending to your children's needs with a reassuring, positive attitude. It won't be a seamless process, but these tips can help your children cope.
Kids' Turn
Email: christine.ness@sfcapc.org

Kids' Turn is a non-profit program in the Bay area helping families through parental separation. Every year over one million children suffer the breakdown of their families when their parents separate or divorce. Kids' Turn helps children understand and cope with the loss, anger and fear that often accompany separation or divorce. Kids' Turn awakens parents to the need to support their children during this crisis in their lives, so that at-risk behavior by children is averted. Kids' Turn is dedicated to enhancing the lives of these children through improved communication and the knowledge they are not alone. The Kids' Turn website has a page for kids only which includes activities, common questions and answers, and a list of children's books that deal with divorce.
Provider Parent Partnerships - National Network for Child Care
Email: jmyerswa@purdue.edu

This site is dedicated to helping providers and parents give better support to children as they grow. It is written for childcare providers—those who take care of infants and toddlers, preschoolers, or school-age children. It explains how providers can work with parents and talk with them about many different issues. To support parents, the site includes materials that providers can print out and share with them.

Researchers do not believe that divorce always causes pain in children. Divorce can have both positive and negative results. For some children, the parents' divorce can be a disaster. It might be negative for the child both now and later. Other children may grow from the experience. They may become more mature, sensitive, and responsible. Many factors affect how families adjust to divorce.

 Researchers say that most families take from one to three years to adjust to a divorce. Some families can take five years or longer, depending on the situation surrounding the divorce. Children have different types of reactions. Some reactions will be negative and others will be positive. Their reactions depend on many different things and some of those are listed here.
Seperate.Us
Separate is a supportive DIY divorce solution to help you to complete all of your legal paperwork and to make the decisions that you need to make as you fill them out. Although you're in control, you're never alone.
Their Divorce Guides help you with paperwork. They connect you with vetted attorneys and financial planners the moment you need help.
See if you qualify. Take their simple five-question eligibility quiz. As long as you qualify, they guide you the rest of the way, saving you money and giving you the peace of mind of knowing you can still get legal support along the way, without paying a lawyer retainer.
Sesame Street's Little Children, Big Challenges: Divorce
Divorce is one of the most common major transitions in children's lives, with 40 percent of all children experiencing the divorce of their parents. With Little Children, Big Challenges: Divorce, Sesame Street has created much-needed resources for families with young children (ages 2-8) as they encounter the tough transitions that come with divorce. This website features an array of tools that parents can use with their children to discuss the feelings and worries they may have about a divorce. Using the familiar Sesame Street characters, there are videos children can watch, songs, tips for parents, apps parents can download, as well as stories and activities that parents can use in helping their children discuss their feelings. The complete tool kit is available for parents from their website.
Supervised Visitation Network
Phone: 904-419-7861
Fax: 904-239-5888
The Supervised Visitation Network (SVN) is a multi-national non-profit membership organization that is a network of agencies and individuals who are interested in assuring that children can have safe, conflict-free access to parents with whom they do not reside. Some of the children who need these services live in foster homes or with relatives. Some live with one parent who is estranged from the other. SVN helps families find services that are convenient to them and will meet their needs by maintaining a directory of services nationwide. SVN receives many calls from parents, attorneys, social workers, judges, and others looking for services in their area. The goal is to have a comprehensive directory so services can easily be found by the families that need them. SVN collects and disseminates research information relevant to safe child access and provides public education regarding the importance of children having access to their parents.
Members of SVN may be:
Attorneys
Judges
Law makers and government employees
Private and non-profit providers of child access services
Professors
Providers of domestic violence services
Providers of other family services
Social workers
Therapists